WhatsApp is probably the worlds most popular instant messaging platform with over 1 billion active users. Gone are the days of sending costly international SMS messages or buying calling cards.
Available on the App Store and Google Playstore, the app allows it's users to not only exchange messages via a data or wifi connection, but also gives the ability to easily exchange videos, photos, send voice notes, free phone calls and also video calls for up to 4 participants, with all messages and calls being encrypted end to end.
However, not everyone is aware that this brilliant smartphone app has a cool feature up its sleeve; Whatsapp Web, this means that you are able to send and receive messages right from your desktop browser without the need to even pick up your phone, pretty cool right? You will even be able to send emojis as usual and receive notifications right to your desktop. #TechYourTime
How to use WhatsApp on the web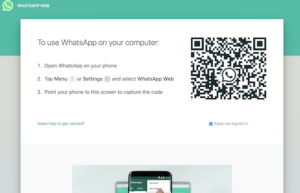 These 3 simples steps will get you going: 
Click here to begin using WhatsApp web, you will be presented with the following screen:
Open WhatsApp on your smartphone, go to 'Settings' and then click WhatsApp Web.
Click Scan QR Code and your rear camera will activate. Now capture the QR code on your desktop screen using your smartphone and boom, all done!
Security
If you're worried about your messages being read by others, fret not, because Whatsapp encrypts your messages but also has a clever feature where you can choose to logout. Therefore, it's ideal if you're using a shared device. There are two ways to do this:
1. Logging out of WhatsApp web on your desktop: 
Click the three dots icon on and click 'Log Out'
2. Logging out directly from your smartphone: 
Open WhatsApp on your smartphone, then go to 'Settings' and after that click WhatsApp Web
If you are logged in elsewhere, you will then be presented with a list of locations/devices
Swipe left on the device you wish to log out from or select 'Log out from all devices'

 
Now you can enjoy WhatsApp messaging from the comfort of your desktop! It's such a convenient option, especially for those times you really do not want to pick up your phone or be distracted by notifications from other apps. I personally am a huge fan. I mean, who doesn't enjoy using WhatsApp? Even businesses are starting to use it as an easy way of interacting with customers and providing customer support.
Aside from the browser option of WhatsApp, there are now also native desktop apps available for download for both Mac OS and Windows.