We're currently in a pandemic, practising social distancing and having to stay home in order to save lives, so how do we stay bonded with friends and keep occupied? Do you miss Netflix and chill with your friends? Well I've stumbled upon a piece of technology which may just be the solution during this time; Netflix Party. #TechYourTime
What is Netflix Party?
Well, it is an interesting little Google Chrome extension which allows you and your friends or family to watch and comment on Netflix shows together, whilst not actually being in the same physical location! During this pandemic, this could prove to be a very useful little tool.
How does Netflix Party work?
Firstly, before you can use Netflix Party, ensure that you and all your party members have a Netflix account. This is required in order for everyone to be able to join, so no, this is not a loophole where you can watch content from Netflix for 'free'.
How to set up Netflix Party
Below is a simple step-by-step guide on how to get you and friends set up on Netflix Party:
Install the Netflix Party plug-in; navigate to the Chrome web store and search for the 'Netflix Party' extension and click 'Add to chrome' to install.
In Google Chrome, navigate to Netflix's website and find a program you'd like to watch and start playing this.
Now it's time now create your party; you can do this by clicking on the red 'NP' logo in your Google Chrome address bar, once opened click 'Start Party' and share the party URL in order to invite your party guests!
As a guest, by clicking on the invite URL you will be automatically redirected to Netflix's website, click the 'NP' button in your Chrome address bar and this will add you to the party.
All members of the party can now watch, pause, and comment simultaneously on the same video!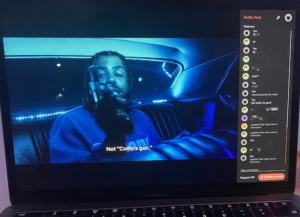 Verdict
Is this just a gimmick? Or is it genius? In my opinion, this is a very useful little tool and something I'm surprised that Netflix Inc. themselves haven't thought about and natively implemented. Imagine being able to watch the big finale of your favourite series with all your friends, this would stop potential spoilers amongst friends groups and allow you all to share an epic experience whatever your location!
Having tried this for myself, I would certainly use it again. I liked how easy it was to set up; the hardest thing amongst my party was to choose something we'd all enjoy watching!
There are elements which could be improved, such as; it would be cool to be able to have a video feed of your friends (similar to Houseparty) to see their reactions or even being able to add emojis and reactions to your comments, but the latter can be added by paying a $5 a month fee which also comes with other features such as; inbuilt voice chat and being able to use Netflix Party on other streaming services. In short, I would recommend Netflix Party.